WELCOME TO CHEYENNE, WYOMING!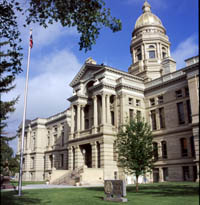 As one of Cheyenne's oldest real estate firms, Number One Properties is proud to offer a variety of services to assist you in your possible relocation. We have continued to meet the residential and commercial real estate needs of southeastern Wyoming with expertise and integrity for over 25 years. Our "home town" attention to detail and our first-hand knowledge of our community have enabled us to provide personalized customer service.
Cheyenne is a warm and friendly community with exceptional educational opportunities, outstanding recreational resources, safe streets, clean air, and surrounding scenic beauty. There are activities for everyone including easy access to summer and winter sports. We have a large shopping mall, museums, a community college, outstanding hospitals and several medical clinics, botanical gardens, a symphony, a civic center, theaters, a playhouse and a variety of restaurants.
There are several key benefits of living in Cheyenne. The individual tax burden to Wyoming residents is among the lowest in the U.S. There are no personal state income taxes and low property taxes. The average cost of housing is $181,520 for homes located within city limits and $254,163 for rural homes located outside of the city limits. Average rentals for apartments are approximately $500-$950. Average rentals for homes are approximately $650-$1,100. Electricity and natural gas costs in Cheyenne are among the 25 least expensive in the nation.
Cheyenne is an active economic, cultural and political center for the Rocky Mountains and is the capital of the State of Wyoming. The "Magic City of the Plains" is located at the intersection of U.S. Interstates 25 and 80 in Southeast Wyoming. Cheyenne is a vibrant community surrounded by some of the most dramatic scenery in the world. The elevation is 6,062 feet. Being only 90 minutes north of Denver, Colorado via U.S. Interstate-25, Cheyenne is situated as the northern anchor city of the dynamic Front Range region of the Rocky Mountains.
From its inception in 1867, Cheyenne has always been a railroad and military town, but it is also a center for business, education and government. As Wyoming's capital city, Cheyenne is home to large contingents of state, federal and local government and a large private service sector based on the government economy. One of every three employees in Cheyenne works for government.

Cheyenne's largest employer is F.E. Warren Air Base, with about 4,200 military and civilian employees. Federal government has over 3,000 non-military employees in Cheyenne, and state government has nearly as many. Laramie County School District Number 1 and United Medical Center are also major employers.

Union Pacific Railroad remains the largest private employer with about 800 employees. Other large private employers include refineries, distribution centers, hotels, nursing homes, discount retail stores, banks, mail-order companies, light industrial, telecommunications, with smaller businesses making up a growing retail and service sector. While appreciating the stability of its government-based economy, Cheyenne's business community is actively working to diversify the economy and expand the economic base. The recent addition of several high-profile national businesses and industries is being hailed as a positive step toward that goal.
Cheyenne offers a wide diversity of year-round activities. Fishing, hunting, biking, hiking, boating, floating, swimming, camping, golfing and skiing are all available in the city or in nearby recreational areas. More than 600 acres of parks, plus 15 miles of the Cheyenne Greenway, offer plenty of places to play or relax. Cheyenne has 14 baseball fields, nine softball fields, 12 tennis courts, five golf courses and two municipal swimming pools. Just beyond the community's boundaries lie Curt Gowdy State Park (25 miles), the Vedauwoo and Happy Jack recreational areas (30 miles) and the Snowy Range (70 miles). Cheyenne is the gateway to Wyoming, welcoming visitors on their way to Yellowstone and Grand Teton national parks and Devils Tower National Monument.
The community offers organized youth and adult sports programs; special community events like Super Day, Cheyenne Frontier Days™ western celebration and rodeo which is known as The Daddy of 'Em All®, Outdoor Summer Concerts, The Farmers Market, Octoberfest, The Goblin Walk, and a Christmas Parade, to name a few. A recreational Greenway path encompasses a majority of the City and is ideal for walking, riding bikes, or rollerblading. Ski resorts are located in the nearby Medicine Bow National Forest and in the Colorado Rockies. Lakes are located as close as 30 miles from Cheyenne and the University of Wyoming in Laramie is only 45 miles to the west. There is something for everyone.
I look forward to meeting you in the near future and showing you the Cheyenne area. Please feel free to call me any time at 800-289-0998 (toll-free) or (307) 630-5263 regarding any questions you may have about Cheyenne. Below you will find several handy websites regarding our community. Please let me know how I may be of further assistance.
Welcome to Wyoming and the Great City of Cheyenne!